VOTE!!!!!!!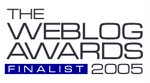 Just click on the logo or this link and VOTE!
If you need good reasons to vote for me, well, read this! And while you are there, you can also vote for those guys. They are good people and in need of your support:
In the Best in the Top 250 blogs category: My Vast Right Wing conspiracy
In the Best in the top 251-500 blogs category: Nickie Goomba
In the Best European Blog category:
And Just in case you forgot or are confused, in the best middle-east or Africa blog Category, vote for me me me me me! Ok?