Breaking News: Egyptian Ambassador to Denmark replaced!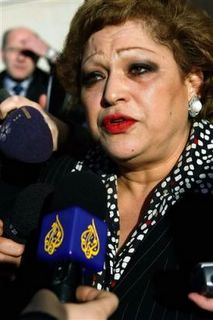 The Sandmonkey sources in Denmark (Thanks Klaus) has just reported that the Egyptian Ambassador to Denamrk "Mona Omar Attia" has just been replaced and she was sent to South Africa instead. This may seem weird to you, but given that the egyptian government has been signaling that it wants this cartoon conflict to end, it makes perfect sense to remove this woman from her post. Why? Well, she kind of helped instigate the whole thing. She reportedly that the Danish Prime Minister's response to the cartoon outrage has been inadequate, and that the country should do more to 'appease the whole Muslim world', and then said that she will urge diplomatic protests against the Scandinavian country to continue even after meeting the PM again. But that's not all she did, the way Gateway Pundit puts it: October 31, 2005: This seems strange... After the pictures were already published in Egypt with no riots or Danish flag burning, Mona Attia threatens the Danish Government on December 22, 2005:
International Muslim organisations are to take over the discussion about whether a Danish newspaper was in its rights to print caricatures of the prophet Muhammad. After Rasmussen also refused to meet with the ambassadors, Egyptian Ambassador Mona Omar Attia said in a Danish news broadcast on Tuesday (12-20) that the group planned to meet to discuss contacting other parliamentary leaders, some of whom had urged the PM to hear the ambassador's complaints. After meeting at the Saudi Arabian Embassy on Wednesday, however, the group said they had decided to let international Muslim groups take over the cause, allowing groups such as the Organisation of the Islamic Conference to try to influence the prime minister. The conference represents 56 member states and has already sent a letter of protest to the government. 'It's out of our hands,' said Attia after the meeting. 'Now it is moving up to the international level. Therefore, we will not try to contact Denmark's political leaders. 'One could imagine that the Arab League will weigh in soon,' she said.
[...]
January 4, 2006
After news that the government would translate the prime ministers New Year's address
into Arabic and
urged the Danish people to practice their right to freedom of speech
without inciting hatred against Muslims or other minorities:
"It's a positive step toward a dialogue, and I hope that my own and other Arabic governments will see it as a positive signal," Attia told daily newspaper Politiken.
February 3, 2006 Egyptian Ambassador to Denmark Mona Omar Attia is back in the news:
Egypt's ambassador in Copenhagen, Mona Omar Attia, highlighted the stalemate in comments after she heard Danish Prime Minister Anders Fogh Rasmussen say his government could not apologize for anything that Danish newspapers had printed.

"This means that the whole story will continue and that we are back to square one again. The government of Denmark has to do something to appease the Muslim world," she said.
And that's not all: if you want to know her connection to Imam Abu Laban- he who lied to instigate the whole crisis- you have to read the rest of the
Gateway Pundit's post here
. I am guessing that it was starting to look very bad for her, with all the shit she has done, especially after it became known in Denmark
that the cartoons were printed in Egypt back in October
, huh? Guess the chickens are coming home to roost.